After three years of existence, we, TU Delft OPEN Publishing (diamond Open Access university publisher), took the opportunity end of 2022 to refine our mission by redefining our five strategic goals. Our mission is to create a community-driven and open access (OA) scholarly communication platform that provides resilient publishing services to the dynamic community of teachers and researchers at TU Delft. Now halfway through 2023, it is an ideal moment to reflect on the progress we have made towards realising our set goals.
Diversity & Support in OA Publishing
Scholarly content diversity
Our philosophy is to give equal consideration to any research output generated throughout the research life cycle for publication. We strive to give every researcher and every teacher affiliated with the TU the opportunity to disseminate their work openly through collaborative OA models.
Support Teachers & Researchers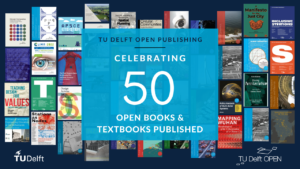 Milestone: Publishing 50 textbooks and books in the 1st quarter of 2023.
Starting diamond OA & community-driven journals
Journal of Coastal and Hydraulic Structures | JCHS exists for a full two years and has published 24 articles with an average of 10 articles a year. The journal is steadily growing.
Journal of Coastal and Riverine Flood Risk | JCRFR has published its first article and more are on the way. The mission of JCRFR is to publish high-quality, rigorously peer-reviewed research and engineering results about coastal and riverine flooding issues.
Journal of Human-Technology Relations |JHTR investigates human-technology relations from a wide variety of disciplines, with a basis in the Philosophy of Technology and in Science and Technology Studies. JTHR migrated from the University of Twente to TU Delft OPEN Publishing after the co-editor-in-chief Olya Kudina joined the TPM faculty as Assistant Professor in Ethics/Philosophy of Technology. The first articles are now live.
Unified Approach for our Collection
Merging publishing workflows. We decided to merge both book and textbook publishing workflows to optimise our services and reduce costs. We had a work session last April with all stakeholders. Two process experts5 from the library drafted a first blueprint of the new publication workflow, that can be used to identify opportunities and discuss how to further align the processes. The draft Blueprint is currently under review. We plan to implement the merged workflow by the end of the year.
Streamlining publishing services. In order to improve authors/editors experience and publishing operations efficiency, we simplified our similarity check and copyright services in collaboration with the metadata acquisition and copyright teams6 of the library.  We will continue this process for our other services.
Data publishing. FAIR data and publishing research data is an important research practice. TU Delft OPEN Publishing has paid more attention to integrating this subject into the publishing workflow and services. A couple of projects supported by the Open Science program are starting in 2023 on connecting FAIR data with OA publications7, and on data peer review8. The outcome of these projects is expected later in 2023 or 2024. It will contribute to various important topics in data publishing, including data publishing journal templates, data peer review framework and workflows, datasets quality framework and many others. This work serves as a bridge to connect different building blocks in Open Science. The close collaboration with other teams on research data and software (4TU.ResearchData, Research Data and Software Services, the Data Stewards team) has been proven to be mutually beneficial. We will further strengthen it in 2023 together with these partners.
Governance
Data policy. A working group on revising data publishing policy has been formed in collaboration with Research Data and Software service at the library and faculty Data Stewards. In addition to the policy document, an accompanying guidance document is also envisioned to give more concrete instructions for journal editors and authors to publish research data.
Ethics policy. We are also working on updating our publication ethics document policy to meet publishing standards and incorporate new development such as open review and AI.
Sustainable Publishing Platform
Our publishing infrastructures went through an audit and those are the outcomes:
Phase 1 (2023): Improving publishing processes and infrastructures through streamlining workflows and service standardization.
Phase 2 (2024): Assessing and shaping our future publishing infrastructures after the evaluation and the decision-making.
Contributors: 


1Just de Leeuwe, 2Michiel de Jonge,3Nicoleta Nastase,4Frederique Belliard,
5Louise Otting & Inge Steijger, 6Jacqueline Michielen-van de Riet & Kees Moerman, 7Yan Wang, 8Shaba Sharma

If you want to know more, please contact us at publishing-lib@tudelft.nl