Aerospace engineering and innovation form a crucial part of the Dutch economy, and the TU Delft Faculty of Aerospace Engineering plays a vital role in incubating and nurturing new generations of talent. Yet, a lot of the story behind how aerospace education at TU Delft has changed over the last years remains inaccessible by an international audience, as it was mostly captured in Dutch. In their new book "80 Years of Aerospace Engineering Education in the Netherlands", Gillian Saunders-Smits and her co-authors Joris Melkert and Michiel Schuurman, unlocked this knowledge and delivered a tour across the evolution of aerospace education at TU Delft and the Netherlands, against the backdrop of Dutch economic and historical context.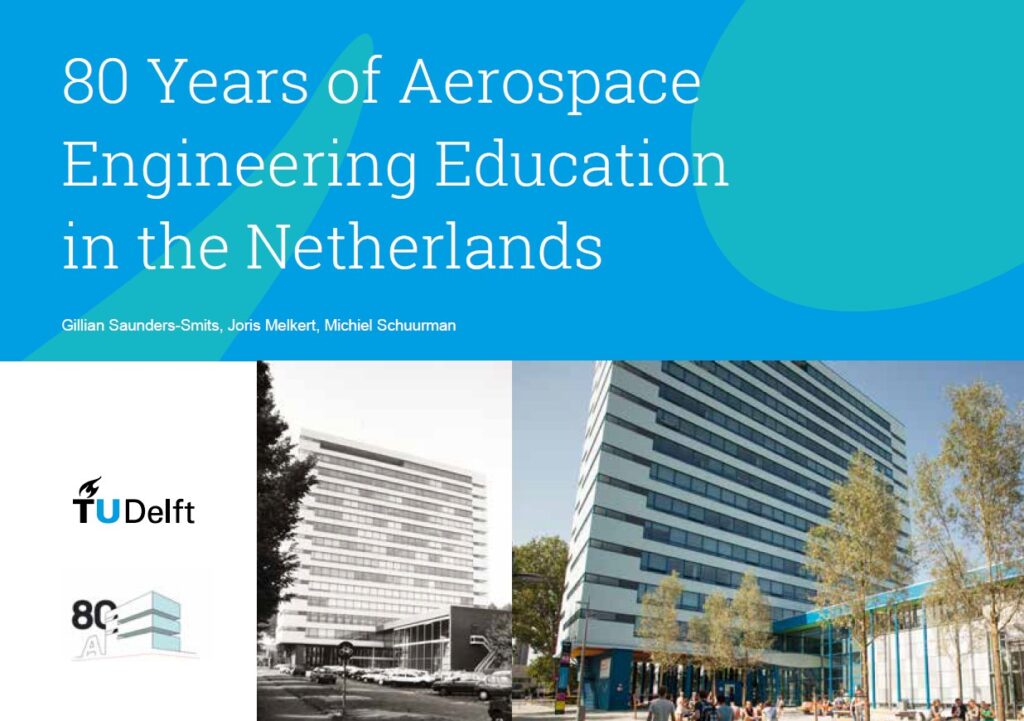 Gillian and her co-authors were all students in Aerospace Engineering at TU Delft. "I was studying in 1996 when Fokker went bankrupt," Gillian recalled, "from one day to the next, certain professors were not there anymore because they were funded by Fokker." This showed how closely aerospace education is linked to the larger socioeconomic situation. Hence, the new book steered away from detailing policy and personnel changes, and was instead written with the intent to ask broader questions and stimulate curiosity and debate: why are things the way they are? "We already received questions from readers, saying they did not recall things the way we described them, asking if we were sure. So, we went back, double-checked and confirmed our facts, and it was great to have these discussions." 
The publication of this book with TU Delft OPEN Publishing, the institute's very own open-access publisher, allowed Gillian and her co-authors maximum freedom to tell their own story. "It's a lot more fun doing it with the university, you have more influence on the content and you don't have to deal with editors from publishers who have their own wish list and agenda," Gillian reflected. The format of a book (in comparison with a journal or conference paper) also gives a lot more space and flexibility to tell a fuller, more colourful story that is more attractive for a wider audience. "People are often scared by journal papers, with their jargons and high word densities. With a book, you have space for an introduction to gently guide readers into your story, and pictures!" Anyone interested can find and read the book for free on TU Delft OPEN Publishing, where they can also order a hardcopy.  
2020 was the 80th anniversary of the TU Delft Faculty of Aerospace Engineering. Unfortunately, due to the pandemic, most of the celebratory events had to be cancelled. This book thus became a timely memento for alumni of the Faculty worldwide. Beyond providing trips down memory lanes, Gillian also hopes that this book could shed some light for those who are interested in learning more: faculty members, visiting staff, embassy delegations, parents of students, and even aviation historians. "An aviation historian approached me (at the conference where I presented the paper) and said, 'I learned something today – you told me things that I didn't know, and I really enjoyed the book.' I would love other historians to also read the book." Gillian recommends the book to all curious minds, "it gives you a very good idea why there is a light blue building at the edge of the campus." 
"80 Years of Aerospace Engineering Education in the Netherlands" is published on TU Delft OPEN Publishing as an open–access book, freely available for reading and download. You can also publish your book open-access and share your knowledge and thoughts with a wider, more diverse audience – find out how today.