What journal is best suited for my publication? Are there potential opportunities or risks regarding collaborations? How can I validate my research strategy? These are just some of the questions researchers face in the course of their work. At TU Delft's Library, Team Analytics provides a wealth of information and services that can help answer these questions and more.
What is research analytics?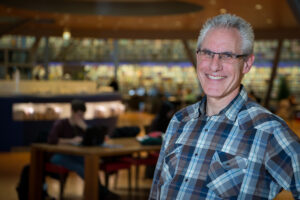 Research analytics, also referred to as bibliometrics, involves analysing publications or other research outputs to gain a deeper understanding of the performance and influence within a specific research domain as well as trends within the research landscape. For researchers, it can help with informed decision making, gaining new insights, and ensuring the quality of research.
Dirk Jan Ligtenbelt is one of the six member team working on research analytics at TU Delft's Library. He started at TU Delft in 2008 as an information specialist, helping researchers find the information they needed with their projects, patents, and research strategies. In time, he said, the field has evolved into research analytics. "Our team is involved in question-based assignments from researchers and strategic people, and we can show a lot of things by performing analysis on just research output," said Ligtenbelt. "We are also now trying to evolve further into research intelligence," which he describes as the product of applying research analytics to generate insights that support strategic decision making and action.
Tailored solutions
One of the strengths of the analytics team, said Ligtenbelt, is knowing what resources are available, where to find the information, and what value it can add. The main source of information they work with is the current research information system (CRIS), which is available through the TU Delft Research Portal. By using data from the Pure database and enriching this information with data that come from external databases, they can perform analyses to show all sorts of interesting things. For example, they can even help someone from human resources look for researchers that might be good candidates for a certain position, showing how they have performed in their own research activities.
Researchers themselves bring all sorts of questions to the analytics team ranging from how to find information, how visible their research is, or which journal would be best for a certain publication. "The value that we bring is people can come to us and we can think together on how to proceed with their question," said Ligtenbelt. "Every time we get a question and discuss with the researcher we get a different kind of solution, so what we do is really tailor made." Their analyses can show things like how you are doing as a researcher within your area, how visible you are within the field, and how much you publish open access.
Next generation metrics
In academia, citations, the impact factor of a journal, or the h-index of a researcher are still considered the most important parts of visibility. But there are other indicators that are gaining importance like the so-called narrative or visibility on social media. Is your research being mentioned on X (formerly Twitter) or in blogs? And one of the new indicators is research being used in policy documents, indicating the impact relates to real societal problems or issues. Ligtenbelt said they have resources to look at these kinds of alternative or next-generation metrics.
Advocating for open
In 2022, roughly 98% of TU Delft peer-reviewed journal articles were open access according to Ligtenbelt. "We still have to convince people sometimes that the open access publications are of better quality than they probably have been in the past," he said. The analytics team is working to advocate for open in different ways. For example, within open science, research integrity is extremely important. Looking at what kinds of collaborations take place amongst researchers and whether they are conducted with countries or universities that involve conflicts or sensitivities. It is critical to look at research topics and whether they have dual uses that might include defence purposes. "It is very important nowadays that you're transparent about what your collaborations are and what you're working on and make that visible to the whole world," said Ligtenbelt. "Our team also has the tools for that." In addition, the team analytics group has created an open access monitor. Each year, they conduct an analysis to show how TU Delft performs regarding open access publishing, looking at peer-reviewed journal articles and conference papers.
Ligtenbelt adds: "We actively engage with TU Delft OPEN Publishing, the diamond OA university publisher, through various assignments. For example, checks and improvements have been made to the metadata of their published journals, in particular, their ISSNs. Another ongoing and possibly recurring activity is to perform citation analyses on the articles in their published journals to gain insight into the authors' citation behaviour."
Continuous teamwork
The work that Ligtenbelt does, he says, is only possible through strong collaboration within the team. "We need each other, all the people within the team because that's how we can provide the right answers and give the analysis that people need." And he noted the importance of keeping up to date on the developments in the field of information. "We are continuously looking into what is happening within the world of information, the databases, the resources, and the tools that are available. We try to find good, free, and available tools which can be used by anybody to help perform an analysis, give insight, and help to find information needed for their research projects and add value to what we already have."