The world we live in is becoming more and more complex every day. From smart homes to renewable energy, we are continually trying to create systems that can make our lives easier and solve the grand challenges facing society. But in order to create these complex systems, standards are needed and understanding the process of standardisation is crucial to make that happen.
Dr. Geerten van de Kaa, Associate Professor of Standardisation and Business Strategy at TU Delft's Faculty of Technology, Policy and Management helped to launch the Journal of Standardisation (JoS) through TU Delft OPEN Publishing. The journal aims to provide insights into the process of standardisation and increase collaboration between standardisation researchers.
Free is the key
Although it is not the first journal related to standardisation, JoS Editor-in-Chief van de Kaa said this journal evolved as the community was searching for a truly open and free platform. "My vision is that everybody should be able to contribute to the research on standardisation and that is only possible when there are no hurdles for doing that. A pure open access journal is then required where it is not necessary to pay any fees for making the papers open access. And the other way around, everyone should also have access to research. There are a lot of places in the world where people don't have subscriptions to journals and they cannot find the research. That's the reason we chose to publish through TU OPEN Publishing." The first edition of the JoS was published in 2022.
The importance of standards
Standardisation is the process of creating and implementing standards for products, services, or processes to ensure uniformity, consistency, and reliability. Its purpose is to promote interoperability, reduce costs, increase efficiency, and ensure that products and services meet minimum quality and safety standards. Within the field of standardisation, van de Kaa said you can distinguish different types of standardisation. It might start with an idea which firms take to a committee or standards organisation, or firms might try to set the standard in the market thereby creating a de facto standard. Think of the classic example of the standard battles between VHS and Betamax or, more recently, HD DVD vs. Blu-ray. But it's not always as simple as how to watch a movie.
As the world seeks solutions to more complicated societal challenges, one way to get there is by trying to realise complex systems. But to realise these complex systems, standards are needed. Then, it's also important to understand the process by which these standards come into existence, to help direct that process and increase the chances that the standards actually come into existence, in turn leading to solution-oriented innovations. Most of van de Kaa's research centres on the process that happens once the standard has been developed and is introduced in the market. He looks at factors that influence the chances that the standards achieve market dominance from the firm's perspective, but also looks at the perspective of the user and what factors impact the chances that users adopt standards. His current focus is on home energy management systems, the kind of networks that can decrease energy usage in homes which is critical amidst a global energy crisis.
Multidisciplinary, high-level research
The JoS features multidisciplinary research including topics like committee-based standardisation, policy making, intellectual property regulations, conformity assessment, and accreditation and these topics stem from different disciplines including economics, management, and law. For that reason, the team of editors from around the world represent a broad range of research interests. "If you have a multidisciplinary journal, you get papers that are written by people that have a certain background, so they write the paper with that perspective in mind," said van de Kaa. "It's important to have people that have that expertise on board." He noted that standardisation research happens all over the world, but the focus can vary as standardisation processes differ from region to region.
Going forward, van de Kaa hopes to see the young journal develop. "In the end it should be recognised by at least scholars within the standardisation community in the next few years but also by researchers outside of the standardisation community, and I think there are different ways of establishing that. I think it's important to have a steady stream of papers, taking into account that the papers that are published in the journal should also have a minimum high-level quality. Quantity should not come at the expense of the quality."
Lessons in academia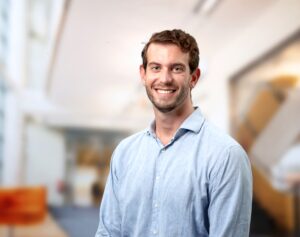 The journal has also provided a unique learning opportunity for Filippo Grillo, a PhD candidate supervised by van de Kaa. As an editorial assistant, he said one would normally be involved in the revise and resubmit process, mainly checking submissions for compliance with the journal's standards. But because the journal is still relatively young, he has also been involved in other tasks like ideating strategies to help grow awareness for the journal. In addition, working on the journal allowed Grillo to hone some project management skills alongside his own PhD research. "I also got to learn how the whole world of academia works from the other side, not from the side of the researcher. It was quite an advantage to learn how, for instance, the indexing of journals works and the optimisation of journals on search engines. These kinds of technical things are very useful to understand in academia."
Working on the journal also showed Grillo the role that open publishing can play in improving the general quality of a research field. "If everyone has access to all of the content then there's more knowledge and information flow, so everyone writes better papers and does better research," he said. It also increases collaboration, he noted, making it easier for researchers to get their names out there. "To some extent these are very similar traits to the ones of standardisation. Standardisation improves collaboration, makes processes more transparent and increases the performance of companies and institutions. So you could argue that standardisation and open science go hand in hand."