Stations are vital parts of national and urban infrastructure. As metropolitan areas grow and evolve, so must the transportation centres that serve them. Considering changing modes of mobility, sustainability concerns, and societal needs, what should the station of the future look like? Dr. Manuela Triggianese, Assistant Professor at the Faculty of Architecture and the Built Environment, explores these issues and what role design can play, particularly in linking the interests and ambitions of all of the actors involved.
Through TU Delft OPEN Publishing, she has published three books to disseminate knowledge on this topic resulting from master's student projects as well as her own research projects.
Multidisciplinary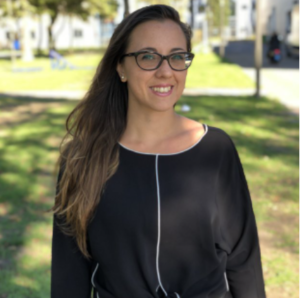 Triggianese's interests stem from her research on spaces – specifically infrastructural spaces within the city, like railway stations. In those spaces, architectural design and planning come together not only with design disciplines, but with other disciplines like transportation planning and infrastructure engineering. She says these projects are very multidisciplinary, and at the same time these urban areas in the city have different types of owners. "If you want to change, redesign or renew certain spaces then you will find a large number of actors involved, even in the decision-making process."
Related to this is the NWO-funded project that Triggianese currently leads called WALK-IN (Widening sustAinable mobiLity networKs: Impact on Nodes). The project aims to develop a toolkit for designers that helps in the conversation with different actors on making decisions, she explained. The toolkit is being developed between and with academia, public and private partners.
Project WALK-IN specifically focusses on small and medium sized suburban transit stations, characterised by a combination of modes and P+R locations. "The role for the city within the region is different because they are not yet in a dense urban fabric like the central stations," said Triggianese. "They are more peripheral, and within the strategy that for example the Dutch government has to build one million homes in the coming 20 years, those areas will also become densified so they will completely change." The research centres on the challenges, the potential, and the eventual role of those stations in metropolitan areas.
Future factors
In general, a station is an intermodal hub where you change modes of transportation. It's a way to help society shift from car, to public transport, to bicycles, to foot, to a sharing system or even to new modes of transportation. Triggianese said the focus for the future is on how to make these changes seamless combined with a good quality of public space. "A station that is not only a transport node, but it's also a public space for people. It is also a catalyser of urban growth."
She said there's another important aspect about the role design can play. "In the last two years, we have seen many challenges associated to the urban and architectural space where questions like social distancing and safety measures became more important than before. There will be other pandemics or natural disasters in the future due to climate change so it's interesting to see how design can actually facilitate the adaptability of the space," Triggianese said. Making sure that the spaces are resilient so that they can allow for changes, which  are related to new mobility trends in the WALK-IN project. "Now there are e-scooters and the 'mobility on demand', but maybe in 10 or 30 years there will be new trends. How can you make sure that the space is flexible and inclusive?"
Sharing the knowledge
As an assistant professor, Triggianese says her duties involve teaching (education), research and valorisation, or dissemination of the knowledge. "Open access is very good for those three components," she said. Her first book, Stations as Nodes: exploring the role of stations in future metropolitan areas from a French and Dutch perspective – was the result of a research project with AMS Institute, DIMI and the Dutch Embassy of Paris. It focussed on exploring the enrichment of a renewed approach of railway stations as intermodal nodes, therefore acting as breeding grounds for both urban and social developments.
Triggianese's two other books are actually the output of student work from the master's level City of Innovations elective course she teaches in the group of Complex Projects: Living Stations: The Design of Metro Stations in the (east flank) metropolitan areas of Rotterdam and Inclusive Stations: Gates into the city of Rotterdam. These books being freely accessible to students means that each group can look back at what has been done and what has been learned from previous courses. "It's nice not only for the students but also for inspiring designers or city makers," she said. "I like sharing the students' work with project partners or even people outside academia who are looking for new ideas. They can get inspired as well, so that's about valorisation and impact through education."
Ultimately, Triggianese said: "These three publications with open access, I see that as reaching a larger audience than for example publishing a paper within a conference proceeding. They are easier to read and I find it's like your research having a more direct impact on society."
Manuela Triggianese research outputs: ORCID and  TU Delft Portal – Pure 
Instagram projects:  WALK-IN  and Complex Projects